Return to Nav
10:00 AM
-
9:00 PM
10:00 AM
-
9:00 PM
10:00 AM
-
9:00 PM
10:00 AM
-
9:00 PM
10:00 AM
-
9:00 PM
10:00 AM
-
9:00 PM
11:00 AM
-
6:00 PM
10:00 AM
-
9:00 PM
10:00 AM
-
9:00 PM
10:00 AM
-
9:00 PM
10:00 AM
-
9:00 PM
10:00 AM
-
9:00 PM
10:00 AM
-
9:00 PM
11:00 AM
-
6:00 PM
Retail Hours
Day of the Week
Hours
Monday

10:00 AM

-

9:00 PM

Tuesday

10:00 AM

-

9:00 PM

Wednesday

10:00 AM

-

9:00 PM

Thursday

10:00 AM

-

9:00 PM

Friday

10:00 AM

-

9:00 PM

Saturday

10:00 AM

-

9:00 PM

Sunday

11:00 AM

-

6:00 PM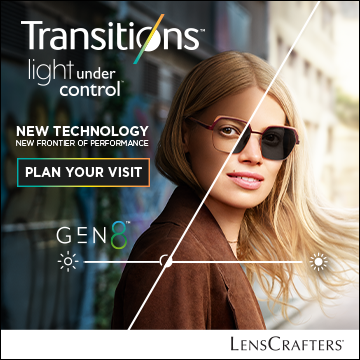 Trending

LensCrafters Eyewear
Browse our selection of designer eyeglasses and sunglasses today.
Brooks Brothers

Bulgari

Burberry

Coach

Dolce & Gabbana

Giorgio Armani

Michael Kors

Miu Miu

Oakley

Persol

Polo

Prada

Ralph

Ralph Lauren

Ray-Ban

Tiffany & Co.

Tory Burch

Versace
About
LensCrafters Towson, MD
With a mission of helping people look and see their best, your Towson LensCrafters has a passion for eyes. LensCrafters located at 825 Dulaney Valley Rd offers the best selection of the latest trends in eyewear from leading designer brands. Associates at LensCrafters are trained to provide you with personalized eye health service throughout your experience. Eye exams are available from Independent Doctors of Optometry at or next to LensCrafters in most states.
Recent Reviews for
LensCrafters Towson, MD
Response from LensCrafters Towson, MD

August 28, 2019

Hi Dave! Thank you for your feedback! We look forward to serving you again!

Response from LensCrafters Towson, MD

August 28, 2019

Hi Chris! Thank you for your positive feedback! We look forward to serving you again!

I entered your store in Towson Town Center about 2:30pm July, 27, 2019. Looking at the frames and hearing about your sale, I decided to buy. I explained to Matthew (more later) that receiving them that same day was important because I live some distance from the store and the bus trip is 2 1/2 hours round trip. Matthew assured me that they could be ready that same day. Matthew helped with my choice of frames and explained the lens options. I did not have my newest prescription with me so Matthew looked up my previous prescription. He notified me that my old prescription was outdated and by State Law could not be used. So, I decided to have an exam in-house with Dr. Clark Seyboth. Toward the end of the exam, Dr. Seyboth mentioned I might have 'beginning' glaucoma. He did an additional test (an additional $35) and handed me a referral slip for further glaucoma tests and told me to be sure to have the Dr. call him when I went to see her. In addition, he (at least four times), strongly reminded me to have her call him.
After choosing the lenses and paying for them, I was told that the technician would not be able to grind the lenses that day. It was almost 5:00pm and the store was open until 9:00pm. When I asked the technician why he couldn't produce my glasses that day he curtly answered "I've turned off and cleaned the machines". Matthew informed me that my glasses would be ready in the morning.
The next day Matthew called to say that my glasses would not be done that day either, but will be ready the next day. I called three times later that day. The first call went unanswered, the second call I left a message for Matthew to call me, the third call went unanswered and finally to an answering machine. I hung up. Matthew did not return my call that day.
The next day, (wanting to be sure they were ready before I made the trip), I called again. This time someone answered. I told him that I was checking on my glasses. I told him my name and he said he'd check. He returned shortly and said, "They'll be in on the 3rd". Less than 10 minutes later I received a message stating that my glasses were ready for pickup. I made the trip and picked up my glasses, two days and much confusion later.
For the above reasons I will be reluctant to recommend your store to anyone. I am sending this to you so you have some perspective from a customer of the incompetence, the brusk behavior by the technician, the concern from Dr. Seyboth for his referral kickback.

Now the good. I give five stars to Matthew. My new glasses are the best glasses I've had since wearing progressive lenses. It is because of Matthew's concern, professionalism and expertise. He took the time to accurately measure my eyes and the frames so that the "progression" is just where it should be for reading. He answered all of my questions and explained what I was buying. He truly is an asset and I want to thank him for his diligence and care. Also, I could tell he was concerned about all the problems that delayed my glasses from being completed on time.

Thanks for listening,
Thomas Braun

Response from LensCrafters Towson, MD

September 3, 2019

Hi Thomas, thanks for your review. We value your business and are very disappointed to learn about your experience. We strive to deliver top quality customer service at all times. Please go to https://bit.ly/LC-LUX so we can follow up with you directly

Lost my glasses and could not drive at night without them. Called LensCrafters on Monday afternoon, got fitted Monday evening and got my glasses before 12 on Tuesday morning! Great experience. John was a great help in picking out the new frames and fitting them. Will return for an extra pair.

Response from LensCrafters Towson, MD

August 7, 2019

Hi Maryanne! Thank you for your positive feedback! We always try to go above and beyond for our customers. We look forward to serving you again!

Nicest people and easiest prescription glasses process

Response from LensCrafters Towson, MD

July 16, 2019

Hi Cameron! Thank you for your feedback! We look forward to serving you again!