Return to Nav
10:00 AM
-
7:00 PM
10:00 AM
-
7:00 PM
10:00 AM
-
7:00 PM
10:00 AM
-
7:00 PM
10:00 AM
-
7:00 PM
10:00 AM
-
6:00 PM
11:00 AM
-
5:00 PM
10:00 AM
-
7:00 PM
10:00 AM
-
7:00 PM
10:00 AM
-
7:00 PM
10:00 AM
-
7:00 PM
10:00 AM
-
7:00 PM
10:00 AM
-
6:00 PM
11:00 AM
-
5:00 PM
Retail Hours
Day of the Week
Hours
Monday

10:00 AM

-

7:00 PM

Tuesday

10:00 AM

-

7:00 PM

Wednesday

10:00 AM

-

7:00 PM

Thursday

10:00 AM

-

7:00 PM

Friday

10:00 AM

-

7:00 PM

Saturday

10:00 AM

-

6:00 PM

Sunday

11:00 AM

-

5:00 PM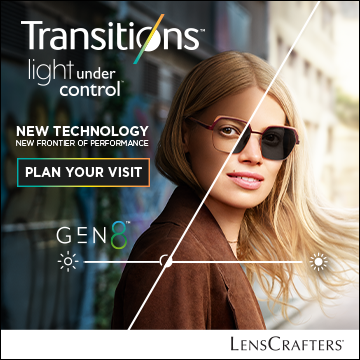 Trending

LensCrafters Eyewear
Browse our selection of designer eyeglasses and sunglasses today.
Armani Exchange

Brooks Brothers

Burberry

Coach

DKNY

Dolce & Gabbana

Michael Kors

Oakley

Polo

Prada

Ralph

Ralph Lauren

Ray-Ban

Sferoflex

Tiffany & Co.

Tory Burch

Versace

Vogue
About
LensCrafters Ft Collins, CO
With a mission of helping people look and see their best, your Ft Collins LensCrafters has a passion for eyes. LensCrafters located at 3100 South College Ave offers the best selection of the latest trends in eyewear from leading designer brands. Associates at LensCrafters are trained to provide you with personalized eye health service throughout your experience. Eye exams are available from Independent Doctors of Optometry at or next to LensCrafters in most states.
Recent Reviews for
LensCrafters Ft Collins, CO
Excellent customer service, lots of frames to choose from. Great teamwork from all of the Eyewear Consultants who helped me with my purchase of lenses and frames. A special thanks to Shannon Barron Eyewear consultant who recommended my best choice for my lenses. Got my glasses I am very pleased with them thank you Shannon.

Response from LensCrafters Ft Collins, CO

August 26, 2019

Hi Darrell! ! Thank you for your review! We strive to deliver the best customer service in the industry. We hope to see you again.

my appt was at 3pm. I didnt leave until after 5pm. way way too long. and my glasses RX needs more work, not satisfied with the prescription

Response from LensCrafters Ft Collins, CO

February 27, 2019

Hi Lisa, thanks for your review. We apologize for your long wait. We strive to provide excellent customer service and are disappointed that we fell short. Please go to https://bit.ly/LC-Support so we can follow up with you directly.

Please be advised that Patrice called me yesterday, and we worked out a plan. My previous review was before this phone call. Hopefully, we can get the problems with my glasses straightened out next week!

Lens Crafters just gets worse. I exchanged my glasses for progressive lenses, which are terrible. I realize that I've been told it will take a few days, but my eyes burn when I wear them, and turning my head to keep things in focus is hurting my neck (I have neck issues). In addition, I work with horses. I just tried to turn my horses out, and if I can't move my eyes to see them, it's dangerous! I don't have time to move my head! The woman I have been working with the last 2 trips in (I think her name is Patrice) has made me feel like I'm a picky jerk who doesn't understand how glasses work (this is my first pair). She is not understanding at all. I had to wait for 20 minutes when I went in to pick up my glasses (plus another 15-20 talking about them), and I will have to make another trip when I get back into town next week to pick up the sunglasses. I explained that I wouldn't be able to wear this pair of glasses "all the time" like I was told to, because I need sunglasses outside (and I'm out a lot when I train horses--one of my jobs), and my sunglasses aren't in yet! I have 2 weeks to try these glasses out, but I won't get my sunglasses until next week--but they will be progressives too, so the probably won't work any better than the regular glasses.

I am so afraid when I go back in to try to change back to single lenses (or maybe bifocals), I will be belittled again, and it won't be enjoyable at all. It makes me dread going back! Super frustrating. I hope I can get this worked out, but I will never go back to Lens Crafters again if this is the way your employees make me feel.

In addition, I went to the link I was emailed to have my issue dealt with directly... it requires a password, which I don't have. I am ready to go to a smaller eyecare center with more personal communication, caring employees, and better customer service, than a giant behemoth like Lens Crafters. If I could give you 0 stars, I would.

Mary is AMAZING! What great customer service! However, I am disappointed in the 30-day guarantee from LensCrafters. Apparently, it is 30 days from purchase, not from when you get the glasses. I got my single-vision glasses for driving, mainly, but my sunglasses were late coming in. I couldn't see the dashboard very well with the single-vision glasses, so I thought I would probably need to try the progressive lenses. I figured it made no sense to switch the glasses without the sunglasses, so I waited until the sunglasses came in. Being new to glasses, I had no idea how progressive lenses work--I figured it was just bi- or tri-focals without the lines. Well, that's not the way the lenses are made, and I don't know if I'm going to be able to adjust to them. However, I was told that the progressive glasses won't be ready for 2 weeks, so if I don't like them, I'm out of luck because it will be past the 30 days! It would be fantastic if LensCrafters would make the guarantee 30 days from the delivery of the glasses (especially if that delivery is delayed!), BUT at least make it clear that it's 30 days from purchase (so people will know that if they have to wait for 2 weeks to get the glasses, it's basically a 2-week guarantee). If I can get Mary to wait on me again, I'll be back, but after my frustration upon learning about this policy, I'll probably shop for my next pair of glasses elsewhere, especially if I can't get Mary to help me out.

Response from LensCrafters Ft Collins, CO

January 24, 2019

Hi Trisha, thank you for your review. We value your feedback as it helps us improve our service. Please go to http://bit.ly/2Di26GQ so we can follow up with you directly to learn more and have your issue resolved.